So, you just started a dairy free diet but are worried about meeting your daily intake of Calcium! Don't stress we are here to help.
There are plenty of amazing non-dairy sources of calcium that will see you hitting those Calcium goals everyday. They are also super easy to work into your daily diet so you don't feel like you are climbing a mountain just to get a healthy dose of Calcium. You might even be surprised that you are already eating some great plant based sources of Calcium!
Taking the first step away from dairy can be a huge deal! Most of us have grown up on dairy, incorporating it into most meals and beverages throughout our days. Yoghurt with our cereal, butter and cheese on our sandwiches or in our salads, cream in our soup or with our desserts and of course milk in our tea and coffee. When you break it down like that, no wonder it can seem like a bit of a scary concept to replace dairy in our diet. Luckily, there are so many amazing replacements out there that replacing dairy is super easy AND super tasty.
The recommended dietary intake (RDI) of calcium varies for different ages, gender and life stages;
Living a dairy free life whilst still meeting your RDI for calcium doesn't have to be a challenge. Thoughtful eating is essential for your health and wellbeing, making sure you are filling your diet with a variety of foods that provide your body with the essential vitamins and nutrients necessary to perform as the best you possible.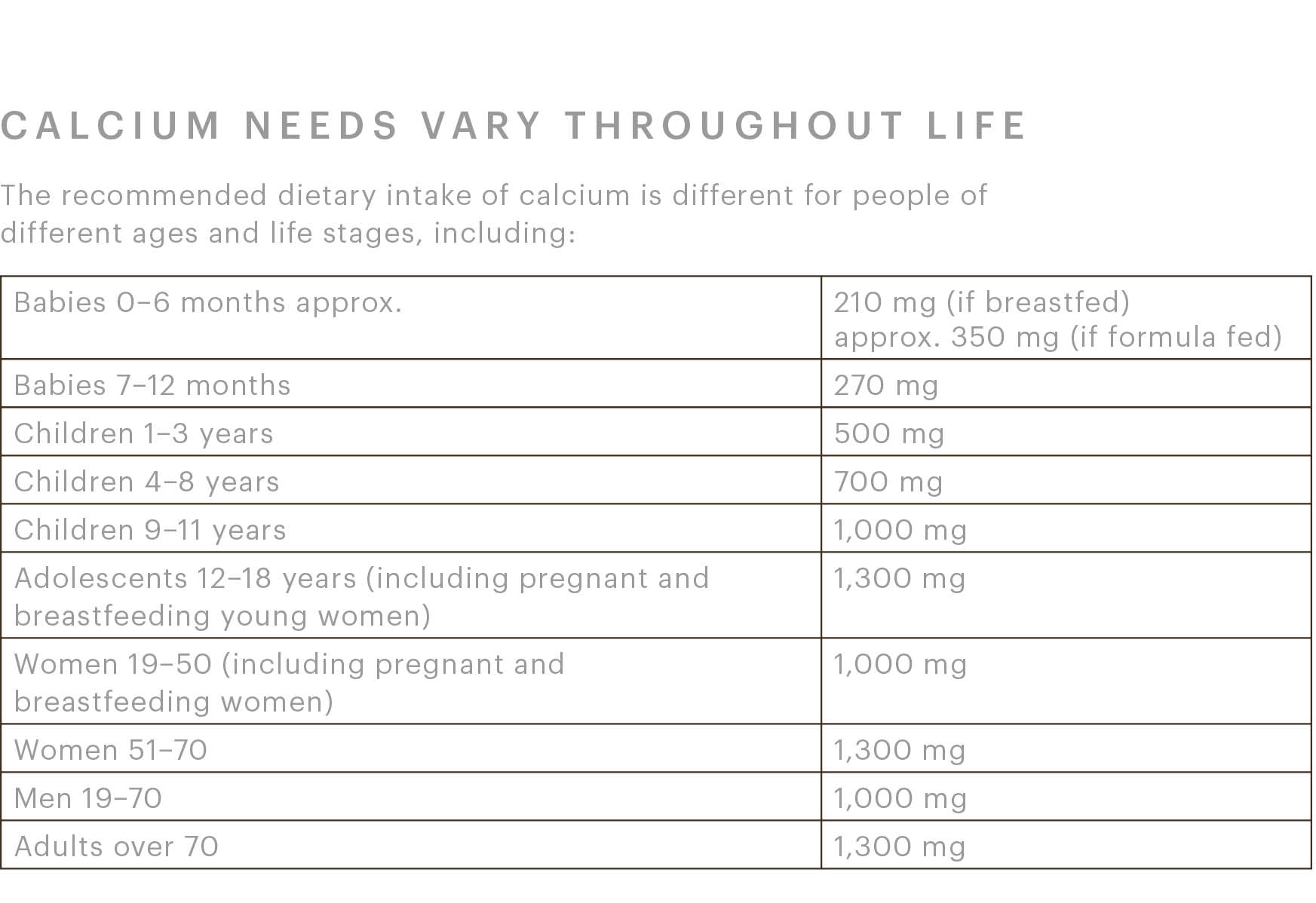 The best plant based sources of calcium
LEAFY GREEN VEGETABLES
This includes a number of our favourites including, broccoli, collards (cabbage family), bok choy, spinach. Add some steamed broccoli to your lunch or dinner, chop up some cabbage and add to your salad, soup or stir-frys, add fresh or wilt some spinach and add to your avo on toast.
SOY AND TOFU
Tempeh and some types of tofu are great sources of calcium. You can also find fortified soy drinks to boost your daily intake. Create a super yummy vegan noodle stirfry, add to raw desserts or smoothies.
NUTS AND SEEDS
Brazil nuts, almonds and tahini are all super yummy and easy sources of calcium. Seeds and nuts are a great snack, are perfect for dairy free sauces, creams and dips and even for delightful raw slices.
CALCIUM-FORTIFIED FOODS
This includes breakfast cereals, fruit juices, bread and even non-dairy milks. There are so many super tasty dairy free alternatives on the shelves of the super markets. In fact many plant based milks are fortified with enough calcium that they equal that of milk.
CHIA SEEDS
These tiny seeds are a great way of boosting your RDI whilst also receiving other superfood benefits. We have all heard of chia seeds puddings, chia eggs, added these amazing super seeds to our smoothies, cakes and even just to water. They are such a versatile and easy food to work into our every day diet.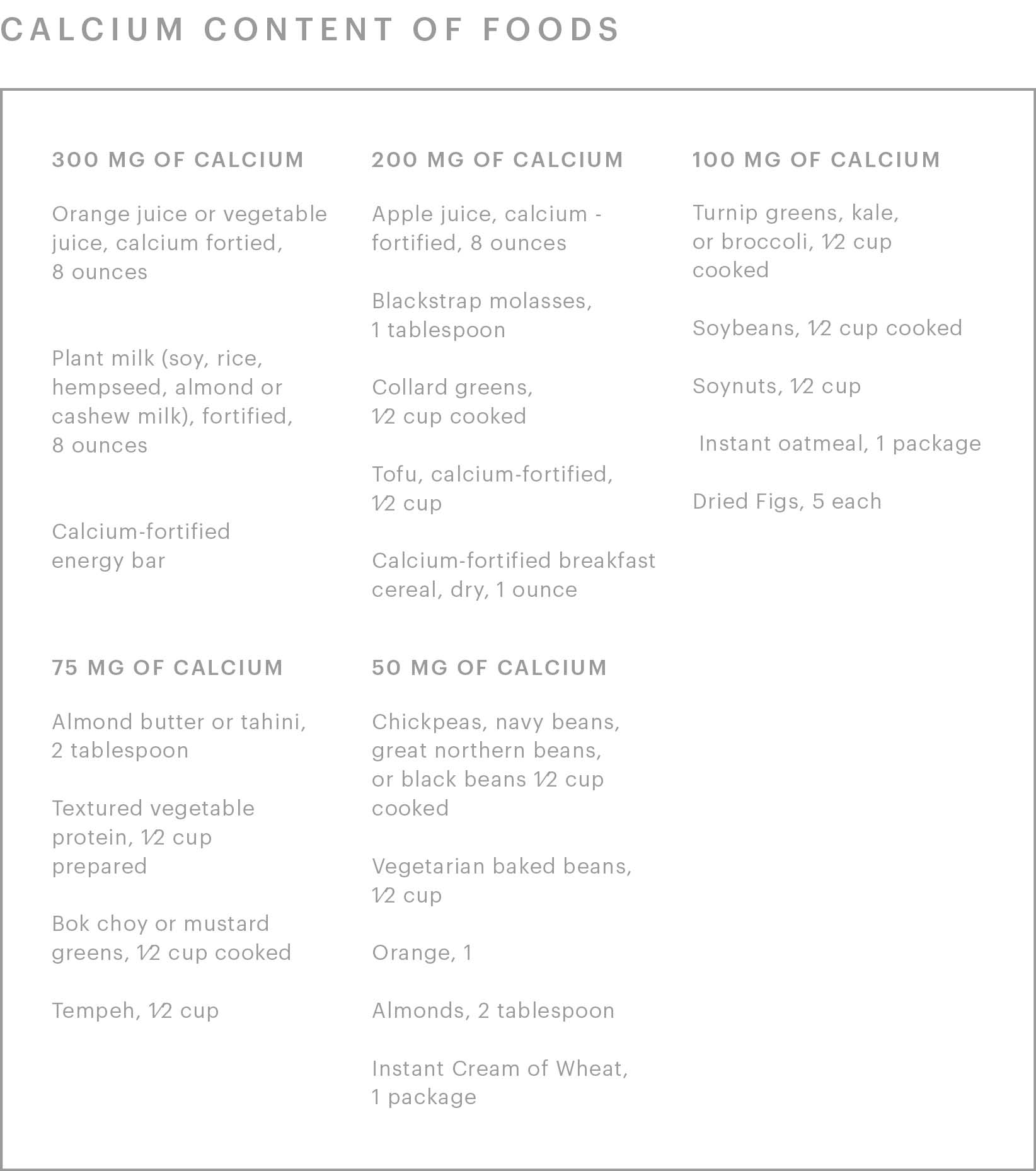 Back